Cancer causing Oil-Chemical Pollutants for making rubber and plastic release into the air during explosion in Texas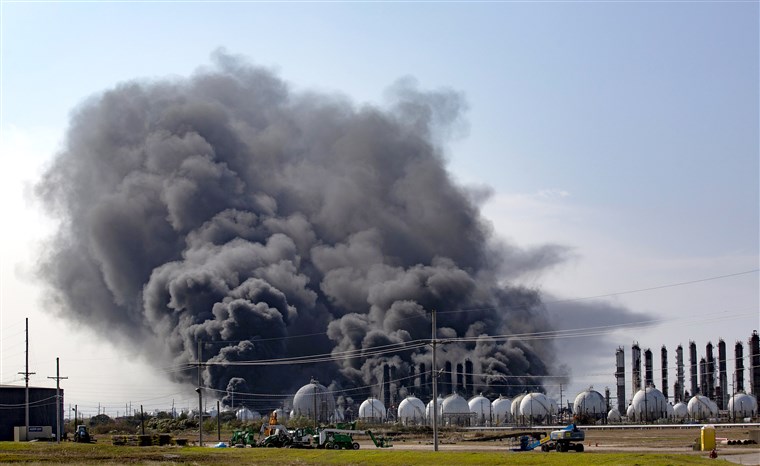 On November 27, 2019, residents in southeast Texas experienced a devastating public health threat when a 218-acre TPC petrochemical plant blew up in Port Noches, Texas. (Photo credit: NBCNews.com)
The plant produces flammable toxic chemicals: raffinate, a petroleum gas, and butadiene, which is used in the production of plastics and synthetic rubber for tires.
For six days the plant burned, releasing cancer-causing chemicals in the air.
Air monitoring readings conducted by the Texas Commission on Environmental Quality reported elevated levels of various chemical compounds in the air including 1,3-butadiene and other volatile organic compounds, a classification of chemicals that are extremely hazardous to human health.
We report on the environmental health hazards of oil-chemical exposures. Just over the last few months on our Facebook page, we reported on an explosion at a fracking well blowout in Louisiana, expected to burn for over a month, another oil spill of the Keystone XL pipeline in North Dakota and citizens opposing new leases for oil-chemical plants in Oregon and Illinois after proper environmental impact assessments found hazards to communities.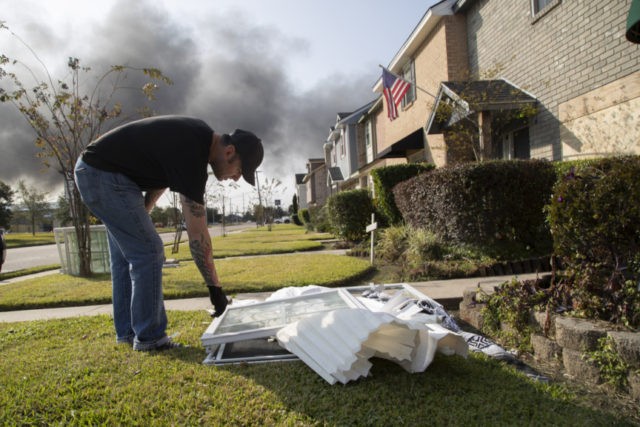 (Photo credit: Breitbart.com)
Over 60,000 residents around Port Noches were impacted by this explosion. Three workers were injured and thousands exposed to hazardous chemicals linked to the escalating chronic disease rates causing asthma, skin and auto-immune disorders. This is just one of numerous chemical plant explosions which have occurred in Texas already this year.
The symptoms of exposure to 1,3-butadiene are sore throat, burning eyes, cough, and runny nose, reported on the OSHA website as "irritant to eyes, nose, throat, and lungs." Symptoms that may indicate harm to the central nervous system include headache, nausea, blurred vision, and vertigo, among other things. Although these symptoms appear as "normal" like cold and flu-like symptoms, if they persist, they could also indicate a chemical exposure. If not properly diagnosed and treated, chemical exposures could lead to chemical illness and debilitating chronic health problems.
Texas Environmental Justice Advocacy Service Executive Director Yvette Arellano made a public statement about the explosion for NPR:  "This should not be anyone's reality and unfortunately, it is for communities sitting at the fence-line of the petrochemical corridor along the Gulf Coast — an ever-growing corridor because of the billions of dollars being invested in petrochemical infrastructure related to plastic."
We worked with Yvette and TEJAS, along with other EJ leadership from Gulf coast communities, to develop ALERT's Toxic Trespass Training Manual in 2016. Together, we created a training program for local leaders to address health concerns with oil-chemical activities, to better inform community residents and response workers about ways to reduce exposures and illnesses, and to help people with chemical exposures communicate with their healthcare providers.
Our training program has been shared in train-the-trainer workshops and peer-led community workshops across the country – in the western Great Lakes region, along the Mississippi corridors of oil pipelines and fracking, across the Gulf coast states, and in the Salish Sea region, including Washington and British Columbia.
Take a minute to peruse our Toxic Trespass Learning Guide so you, too, can identify types of oil-chemical hazards in your home or community, learn how exposures occur and how they could affect your health, and be able to recognize oil-chemical exposure symptoms and describe them to your doctor.
Most importantly – you don't have to live next to a chemical plant to be exposed to harmful oil and chemical pollutants. And it's our goal to make sure people know the real science of the environmental health hazards. Share this material with your friends and community. It's time to ramp up for 2020.