ALERT to interview Gulf residents for British Petroleum (BP) oil disaster memorial during April
Our series of live streams
"Gulf voices & why we need to listen,"
 is part of our project to 
expose
 long-term illnesses and deaths following the BP oil disaster and highlight the urgent need for national policy reform.
Ten years since British Petroleum's Deepwater Horizon oil spill, hundreds of thousands of people may be suffering from long-term illnesses. Thousands are seeking relief in courts for chronic illnesses — likely from exposure to the crude oil and the thousands of gallons of chemical dispersants that were used to "clean up" the oil. A decade of scientific research has found that oil-chemical dispersants are more hazardous than oil alone to humans and wildlife — and are associated with cancer, birth defects, death and more in exposed beings and their offspring. The Environmental Protection Agency's oil spill response plan is 26 years old, and it currently allows for unlimited use of hazardous dispersants in oil spill response — despite the fact that these dangerous dispersants do more harm than good.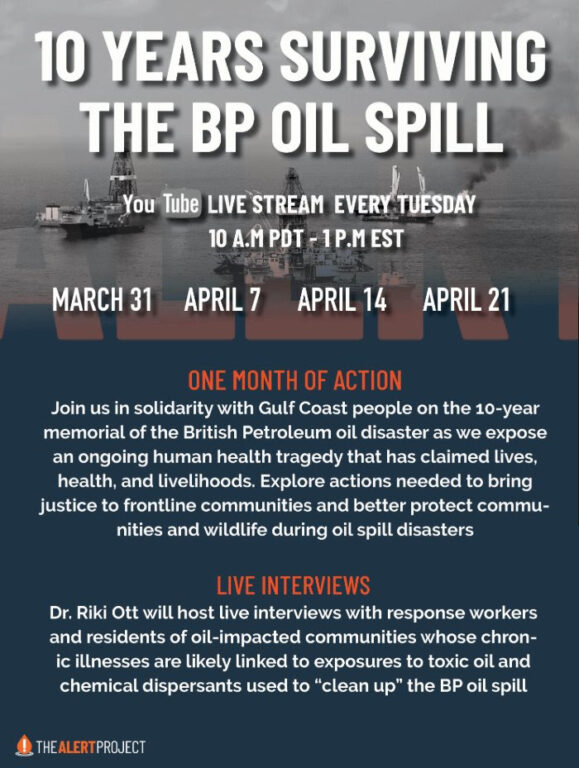 The ALERT team is planning one month of action relating to our nation's two largest oil disasters, from the 31st memorial of the Exxon Valdez to the 10th memorial of the BP Deepwater Horizon. Each Tuesday from March 31 to April 21, we will feature live interviews with Dr. Riki Ott and Gulf Voices — response workers, mothers with children, fishermen, scientists, and others — all people who believe their ongoing long-term illnesses were likely caused by oil-chemical exposures from the 2010 BP disaster. We kick off our online series with an exclusive press conference on Wednesday, March 25 at 10 am PST. Our goal is to amplify the reality that the human illnesses following the BP oil disaster are real, ongoing and need to be addressed by the medical community, our government – and the rest of us. Email [email protected] for inquiries.
JOIN US:
RSVP here on Facebook to the month long series to get reminders and share.
Access the live stream and recordings on our YOUTUBE CHANNEL here.
SEE YOU THERE!